© 2006 - 2017 www.KathleenDuxbury.com, Duxbury Media, Inc. All Rights Reserved
.
Questions?

Call
201-652-2755
email:
cccstories(at)gmail.com

Thank you for your interest in a quiet part of American art history that depicted the greatest conservation movement in United States history.
The Boys of Bergen
The story of the CCC in Bergen County New Jersey

Credit Card


Using the Paypal payment service.......................Boys of Bergen...............

.......


$19.33 plus $5.75 USPS Priority shipping includes tracking (US only) and New Jersey sales tax,
if applicable.
Personal Check
Please send payment of $26.43 ($25.08 shipping outside NJ) to: Kathleen Duxbury, P.O. Box 62, Ridgewood, N.J. 07450.
Cost is $19.33 + ($1.35 NJ sales tax if applicable) and $6.45 USPS Priority shipping, which includes insurance and tracking.
Please provide mailing address and contact information. Thank you
.
Amazon
Ordering "Boys of Bergen" through Amazon.com is now available.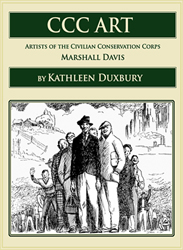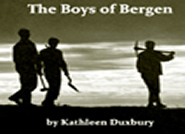 twitter
No problem for signed copies and personal inscriptions on book orders placed directly through this website.
Include requests with your order.
Civilian Conservation Corps Books and 2015 Art Calendar
by Kathleen Duxbury
USPS Priority mail and tracking service within United States and US territories.
Contact
for orders shipped outside US.


CCC ART - Artists of the Civilian Conservation Corps - Marshall Davis
.........................................by Kathleen Duxbury
Credit Card


Using the Paypal payment service...................CCC ART book

..........................

$19.33 plus $6.45 USPS Priority shipping includes insurance (up to $50), tracking and New Jersey sales tax if applicable

.
Personal Check
Please send payment of $26.43 ($25.08 shipping outside NJ) to:
Kathleen Duxbury, P.O. Box 62, Ridgewood, N.J. 07450.
Cost is $19.33 + ($1.35 NJ sales tax if applicable) and $6.45 USPS Priority shipping with insurance and tracking. Thank you.
6" x 9" (15.24 x 22.86 cm)
Black & White on White paper
190 pages Duxbury Media, Incorporated
ISBN-13: 978-0986003844
ISBN-10: 0986003840
Also available through:

AMAZON